Content originally taken from eBella Magazine, "Authentic Leadership" by Kelly Townsend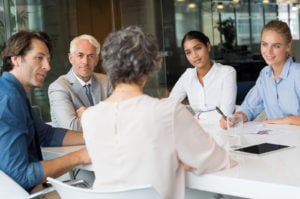 One of the basic pillars of success in building a thriving business is generating powerful and lasting relationships with other professionals, but how can you build your skill set for doing just that and generate extraordinary and mutually beneficial relationships?
Mostly we relate to others through our opinions, assessments or judgments of them. This can constrain or limit what is possible in our relationships. If we think someone would not be interested in talking with us, our actions will be correlated to that reality. Or we think that person has their act together and is so special that we don't have the stature to really create a business relationship with them, and we act accordingly.
My commitment in life is to relate to others inside a context that they are big people with big lives. This gives me a linguistic context that supports creating authentically who I am for others, who they can be for me and what truly is possible in our partnership. Here are some key practices you can start today that will make a difference for you and the partnerships you're out to build.
Step 1: Be confident with who you are
One key in life and business is to know you can trust yourself to keep your agreements with people. This also includes keeping agreements you have with yourself. When a professional does not keep even the simplest agreements of returning calls, it erodes one's aliveness. To others, this person becomes someone that can not be counted on to do what they say they will do. When a professional keeps his or her agreements, it not only allows for self-confidence, it allows for a freedom to be present with people. When you know you can be trusted there is no need to defend yourself with customers, business alliances and friends and family. Most people would assert they have a commitment to keeping agreements, but circumstances don't allow for keeping agreements. An extraordinary business professional would not resign themselves to using anything outside of them—such as a story, explanation or justification—to replace honoring one's word. Developing a powerful relationship to one's word is key to building extraordinary, lasting relationships.
Step 2: Create and commit to how you will relate to others
We are born into or inherit an existing paradigm or certain place we listen from. Mostly this paradigm is undistinguished for people. Maybe you have noticed in your daily interactions how quickly you determine your perceptions as the truth. These judgments and assessments are determined from where we listen from or what we are listening for. We have all fallen into a trap of thinking we know what people are going to say even before they open their mouths. This automatic response limits what is possible in our relationships with others and most people don't even notice they're doing it. It's so common; it's the ordinary way of listening.
And in truth, it isn't bad, but it certainly is limiting.
So just like I think of everyone I meet as a big person with a big life, develop a way to listen that keeps you open to the possibilities. Consistently create who people are for you in a way that allows you to listen beyond the existing context and create a new and empowering context. If I am working with a CEO who is out to create a breakthrough in leadership, I will listen for him/her being a great leader. In my listening of him/her as a great leader, the CEO has the opportunity to grow in that listening. If I listen for my opinions about him/her, it limits what is possible. The challenge of the extraordinary business professional is in listening keenly for who this other person is as a possibility.
Step 3: Determine and create what you are up to with someone
An extraordinary professional with a commitment to building career-making relationships takes an authentic interest in who she is building the relationship with. I was talking with a salesperson who was attending several networking events hoping to gain new business and I asked her what she was up to at the events. The salesperson responded, "I am trying to meet people and let them know about me and my services." I offered a different approach and recommended she instead attend events authentically interested in learning about others and what they were up to.
If you truly are committed to taking your business relationships to another level, or making a180-degree switch in what you do now, try this out and you will be amazed.