Content originally taken from eBella Magazine, "Turn your Dream Job into Reality" by Kelly Townsend
When you look at the next few years, are you thrilled by the challenges and opportunities they have to offer? Are you living a life you love and loving your work? Do you experience working with a championship team? Have you planned the course for your staff, and are they aligned and determined to create breakthrough results?
Chances are, some of these scenarios are missing for you. Maybe you're so stuck in the day-to-day survival of running a business that you don't even think you have time to 'think big'.
When I work with companies I experience many different visions, strategic intents and plans that are mostly ignored, or never even written out on paper. One company I worked with created a plan every year, which promptly collected dust on the bookshelf. Other company owners may have an idea of what they want to see happen, but they never share that information with staff. Other bosses complain that employees aren't held accountable or take ownership, yet they haven't created the opportunity for their workers to do so. And some owners just don't have time to create a plan because they're overwhelmed trying to survive their daily tasks.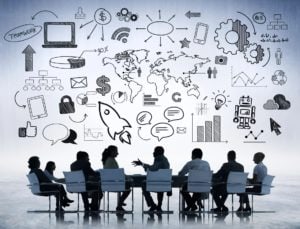 Create Possibilities
Consider that much of the 'survival mentality' in business is caused by not dreaming and not creating an action plan that inspires you to make changes. What if you created a plan for your business just like you'd plan a dream vacation? Say you want to take a vacation to Hawaii. When you purchase that ticket, you're now living inside the possibility of drinks on the beach, tanning and playing tennis or golf. You've bought into the plan and you're creating action steps. Once you buy the ticket for your dream vacation, a new future is very real and you start to take actions that are consistent with that future— you research the islands you want to visit, start a weight loss program and you share your excitement by telling others about your trip. With each of those activities, you're creating a future that inspires or excites you — it's something you're looking forward to.
You can plan your business in the same way you plan that vacation. The first step is to actually alter your relationship to what you think is possible.
8 Steps for Playing Big
Can you really wake up thrilled by the challenges of the day fulfilled? Here are a few tips on how to add fireworks to what you do — in business and in life.
1. Dream
People committed to extraordinary performance dream big. I'm not talking about pipe dreams, but ideas that they see as possible.
2. Give up the Past
If you want new goals that transform your experience, you need to give up what the past tells you is not possible.
3. Explore Possibilities
Play with different scenarios that would stretch who each person in your organization knows themselves to be. This is the beginning of causing breakthroughs for your company.
4. Be a Game Player
Think of your business as a game. The goals are the scoreboard for the vision and commitments of your company being fulfilled.
5. Create a Plan
Work with your team to create something that inspires them (and you). This will call each person into action in new ways. Share this compelling future with everyone and get all staff aligned.
6. Implement the Plan
Don't put the plan on a bookshelf! Make the plan an active document that forwards your company's values and commitments. Create milestones and deadlines, and write them in your calendar.
7. Create Structures, Accountability
Meet regularly as a team to discuss where everyone is on the scoreboard that measures the plan.
8. Deal with Breakdowns
When you're stretching your staff, be available to coach and help your staff deal with accomplishments and failures. Knowing this information will make little difference unless you're willing to alter your relationship to what is possible. I find it useful to have a coach — a committed listener who can distinguish what gets in the way or stops you from having everything you want for yourself, your life and your business.
Use these tools, and turn your dream job into reality.